How and why Biotrue® works:
Biotrue® MPS is designed to provide:
Up to 20 hours of moisture

Biotrue® utilizes the eye's natural lubricant, Hyaluronan (HA). Even after 20 hours, Hyaluronan remains on the lenses.

The same pH as healthy tears

Biotrue® matches the pH of healthy tears and enables optimal performance of our dual disinfectants.

Beneficial tear proteins

Biotrue® keeps healthy tear proteins active, maintaining their inherent antimicrobial activity. Biotrue® also lifts and removes denatured proteins – those that have lost their structure due to factors such as external stressors.

Exceptional Disinfection

Biotrue® combines a dual disinfection system and pH equal to heathy tears and protein management to provide exceptional disinfection.

Satisfaction

9 out of 10 people1 are satisfied with Biotrue®.
Biotrue® Advanced has all the benefits of the original, plus advanced hydration and disinfection, along with:
25% more Hyaluronan2

Biotrue® Advanced provides even more moisture on contact lenses for the first 12 hours.

Triple moisturizer

Hyaluronan, Poloxamer, and Poloxamine work together to help combat contact lens dryness and discomfort.

Added electrolyte

Plays an important role in preserving the balance of the ocular surface.

Added antioxidant

Protects Hyaluronan against free radicals3.

Triple disinfectant system

Kills 99.9% of all germs tested4.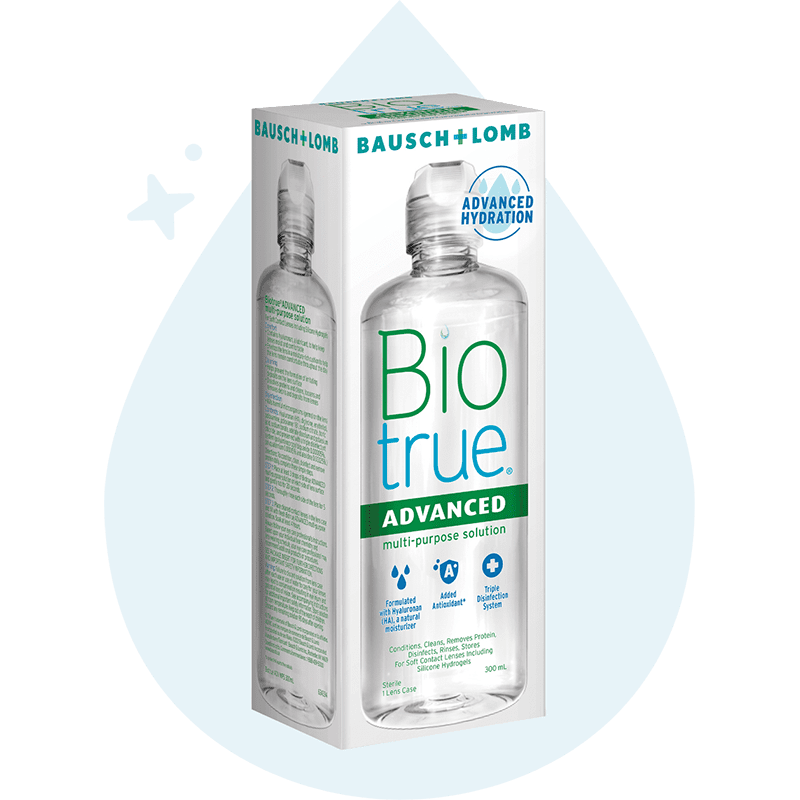 1 Post-Purchase Survey results from Caddle Inc. (197 entries).
2 vs original Biotrue® MPS formula.
3 Biotrue® Advanced includes an antioxidant that prevents free radicals from developing and breaking down Hyaluronan (HA) – which could be problematic to the biology of your eyes.
4 Standardized testing (ISO 14729) against S. aureus, P. aeruginosa, S. marcescens, C. albicans, F. solani